During concerts, festivals and competitions, Popkoor Estrellas is usually accompanied by a pianist. They are also often present at rehearsals. Mariateresa Gallicchio is currently the choir's regular pianist, but she is currently being temporarily replaced by Beatriz Galán. You can find more information about both pianists below.
---
Mariateresa Gallicchio
Mariateresa Gallicchio was born on July 16th, 1997 in Bari, Italy. When she was 10 years old she started following piano lessons. What started as a hobby, became a big part of her life and she continued studying the piano during high school. After that she was accepted as a student at the conservatory where she earned the First Level Academic Diploma (first cycle) on March 8th, 2019 with a mark of 110/110, cum laude.
She then started the master program Piano Solo. She attended the second year of the program in the Netherlands, at the Prins Claus Conservatorium in Groningen.
During her studies she participated in national and international competitions like the 14th National Music Competition I. Strawinsky (96/100), the International Artistic Festival I colori dell'arte (97/100), Premio Mozart 2018 (95/100) and Premio musicale Internazionale Città di Foggia (98/100) in the category piano 4 hands.
She attended masterclasses with important pianists as Maria Grazia Bellocchio, Natalia Shokireva, Michele Campanella, Klaus Hellwig, François-Joël Thiollier, Konstantin Bogino, Michele Marvulli, Riccardo Risaliti and Igor Roma.
Mariateresa has performed in important cultural events and festival across Italy and she collaborated with the orchestra Musica in Gioco for a few years, during which she played in a variety of events, such as the Talos Festival of Ruvo di Puglia, in Note d'autore in Conservatorio di Musica N. Piccinni on 26th of April 2018 . For the presentation of a book, in Concertosa 2019, in Certosa di San Martino, Naples.
In the last three years, she worked as accompanist of the choir Incanto Armonico in Bari, part of ARCOP (Associazione Regionale Cori Pugliesi), the regional association of choirs in Puglia, conducted by Bepi Speranza.
During her stay in Groningen, she started a collaboration with the choir Estrellas of Groningen, conducted by Wilfred Reneman, with whom it was possible to work with serenity and complicity from the beginning, thanks to the pleasant and welcoming environment. Due to the great experience in Groningen, she enrolled for the Master of Music in Piano at Prins Claus Conservatorium.
---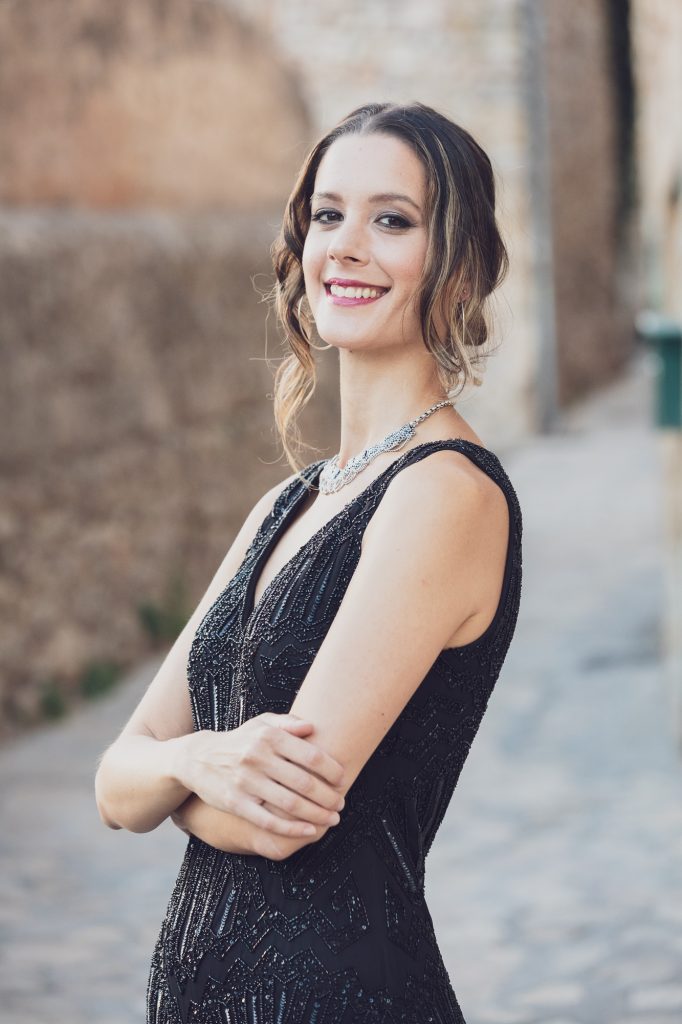 Beatriz Galán
Beatriz Galán was born in Palma de Mallorca, where she started her musical studies at the age of 7 at the Professional Conservatory. She concluded that part of her education by winning the Honor Award for Chamber Music. In 2009, she was admitted to study for her bachelor of music in the Basque Country, where she had lessons with Emmanuel Ferrer and Ricardo Descalzo, specializing in Contemporary Music. After finishing her Bachelor's piano degree, she combined her work as a teacher with preforming in concerts. She worked as a piano teacher, accompanying pianist in the masterclasses of violin teacher Manel Guillén and Yuri Volguin, accompanying pianist of the opera choir of the Main Theatre of Palma de Mallorca and at the Conservatoire of Felanitx.
Last year she moved to Groningen to study with Paul Komen at the Prince Claus Conservatoire. She is currently finishing her Master studies, where she researches classical piano repertoire with Jazz influences.
Beatriz has received masterclasses by Andrzej Jasinski, Leonid Sintsev, David Kuyken, Marta Zabaleta, Roberto Bravo, Ralph Van Raat, among many others.
She won 3rd prize in the piano category at the 1st International Piano Competition Vila de Capdepera (2001) and at the 7th International Piano Competition Ciutat de Mallorca (2003).
She gave concerts in cities in Spain as Mallorca, Cieza, San Javier, Zaragoza, Almería, San Sebastian, Bilbao, Madrid, Valencia. And in France, Castillonnès, Le Prieuré Le Mesnil Saint Martin (Villeréal).